Removal of Lipoma
Lipoma Removal in London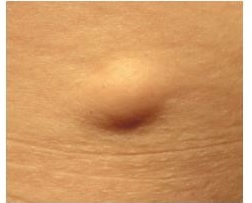 Lipomas are subcutaneous soft tissue tumors that usually are slow-growing and are harmless. They have a soft, rubbery consistency. Lipomas tend to form on the trunk, shoulders, neck but can appear elsewhere on the body.
Symptoms:
Lipomas can appear as solitary or multiple soft tissue or lumps. Most lipomas are less than 5 cm in diameter and have no symptoms, but they can cause pain when they compress nerves.
Treatment:
Lipomas are not removed unless there is a cosmetic concern, a compression of surrounding structures, or an uncertain diagnosis. Lipomas generally do not infiltrate into surrounding tissue so they can be removed by minor surgery under local anesthetic.